As the number of newly reported COVID cases increases, university officials in an effot to protect the health of students, faculty, as well as the larger community are diminishing their capacity to educate effectively.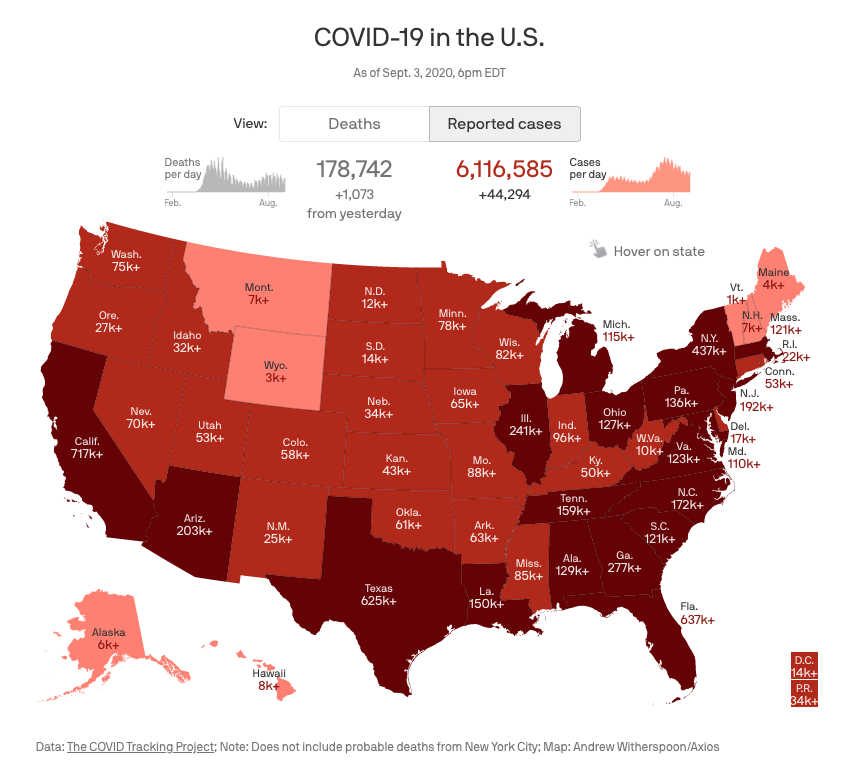 According to The New York Times, as of September 3, 2020, over 81,000 college students have been infected with COVID-19 since late July, even before the new 2020-21 school year began. (Click on the link in the August 26 Tweet, which only shows the growth rate of infections amongst college students, doubling in two weeks' time.)
So, for those students attending college in New York, be prepared for intermittent shutdowns of in-person classes, see-sawing learning expectations where most likely students and faculty will not be able to establish a consistent set of standards for how they learn together.
In other states, college administrators are simply quarantining entire residence halls, which is also disruptive as the 270 students will not be able to attend classes, forcing faculty to amend their teaching practices, further stymying the educational process.
Yet, each region and each campus makes decisions based on state and local guidelines. At Chico State University in California, when 30 students were diagnosed with COVID, university administrators interrupted the learning process altogether by shifting all classes online, and closing the residence halls with an urgent order to vacate, similar to evacuating ahead of a natural disaster, which in this case can't be seen without the aid of a microscope, shattering the bonds of the fledgling community in the process.
Whereas at University of North Carolina, Chapel Hill, 177 students needed to be diagnosed before officials, similarly shifted courses to online formats, also asked residents to plan to move back home for the Fall term after only two weeks of living on campus.
And, yet other universities, officials are not waiting for a rise in COVID-confirmed cases. At Northeastern University, 11 students were dismissed for the semester for violating social distancing protocols, not only sent back home, but also barred from taking classes in Fall 2020, as well as not being refunded their nearly $37,000 in tuition. In the interim, Northeastern has a public relations nightmare on their hands in attempt to maintain their brand, but this writer would not be shocked if they are soon to face legal woes, which compound their educational difficulties in the weeks ahead.
In a "fool me once, shame on you, fool me twice, shame on me" situation, university officials' are playing a risky game of Chicken with students' continued matriculation, as they change policy, sometimes overnight, under the guise of "I'm doing this for your own good" debiting their goodwill account generated by the strength of their brand. Yet, how much more will students, and by extension their families, stretch goodwill to maintain their university matriculation?
---
To learn more how experts at Creative Marbles Consultancy, helps families resolve complex educational and college admissions concerns, click creativemarbles.com