Since mid-March 2020, students, parents and educators have been developing ways to ensure a continuity of learning for all students. However, in the uncertainty of the continuing pandemic, 65% of parents worry "whether their children will stay on track and be prepared for the next grade", with 60% believing school closures will have a negative impact on their kid's education, according to the most recent week of the Echelon Insights survey on behalf of the National Parents Union.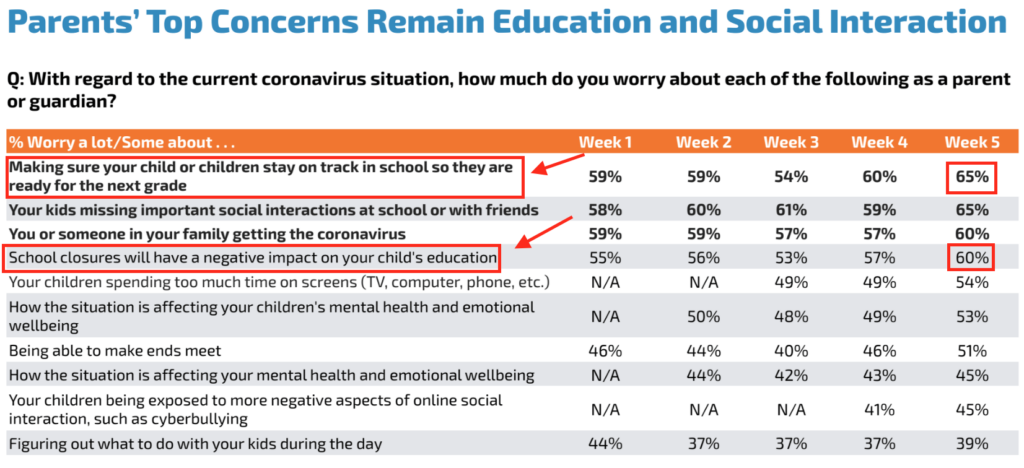 Starting in mid-March, when kids were dismissed from school campuses, parents were deputized as teachers. As such, parents gained awareness of day-to-day lessons and their kids' education. They answered questions about assignments, monitored their kid, especially the younger ones, to sit still and focus their attention, as well as in some cases explained the lesson. 
Yet with greater awareness of their kids' school activities, in the same Echelon Insights survey, 40% of parents believe their children spend less time on schoolwork (than if kids were in school), thus 46% of parents believe their children are learning less than they normally would when attending school, which may explain why 50% of parents are planning for their children to engage educational activities during the summer, including almost a third of parents sharing their children will engage one-on-one online tutoring sessions. 
Since most parents did not live through a health crisis that disrupted their education, as it is currently their children's, they seek educators' guidance about how they can help their students learn. However, many educators have been slow to adapt to the disruption. Many high school students shared with CMC stories of teachers who simply uploaded worksheet packets to Google Classroom, complimented by recorded video lectures and gave online tests for which many did not receive feedback about questions answered right or wrong.
In the absence of a traditional educational schedule where students attended school during the day, working on their assignments in the evening, their efforts validated by their grades with parents providing support on the margins, if at all, many students and parents were at a loss, thus searching the internet for other educational resources to fill the gap. Some students continued working with their tutors over video conference calls, where they discussed weekly lessons or used their textbooks as a guide. Other students substituted MOOC classes taken through providers like EdX or MIT OpenCourseWare, to both learn and enrich their curriculum. 
In such a modified educational environment, where students took greater responsibility for their learning, rather than being teacher-directed, now 65% of parents believe "School should be focused on rethinking how we educate students, coming up with new ways to teach children moving forward as a result of the COVID-19 crisis." 
As parents witnessed their children's education up close and personal this spring, they gained a greater understanding of what educational activities are suited to how their kid best learns. Families should utilize what they learned this spring to adjust and possibly improve their children's understanding of even possibly a wider curriculum than is presented in many schools with the freedom to pursue that understanding more deeply. 
As epidemiologists and public health officials predict the pandemic will continue evolving, potentially precipitating intermittent school campus closures, families must be willing to remain flexible in relation to how their students will continue to acquire knowledge over at least the next year, though, as many parents have learned, may be less of curse and more of a blessing.