The continued COVID-19 health crisis, and its impacts both economically and socially may have wide-ranging consequences for colleges throughout the United States. Families confronted by an array of changing circumstances are recalibrating their educational decision making processes, especially for high school seniors choosing between multiple colleges or deferring enrollment, as well as continuing college students choosing to re-enroll or take a leave of absence for Fall 2020.
About 63 percent of students said they would still enroll in college [for the first time] but were worried about whether they could attend the school of their choice, while 17 percent said their plans have changed, according to the education consultants Art and Science Group.

Politico, April 12, 2020
For potential first year students, with only virtual events and "tours" rather than traditional spring open houses, sampling classes and staying overnight in residence halls, many high school seniors and their parents have lingering doubts about the quality of the educational experiences at campuses they can't visit. Typically, during "recruitment events", students build their confidence that choosing a particular college will likely merit them economic prosperity and lasting peace of mind, as well as is worthy of their lifetime of achievements within the academic meritocracy.
Thus, first year students may be most confident select colleges in familiar regions, closer to home, espeically if college campuses close again and they need their family's support, given the on-going health risks of subsequent viral outbreaks, which researchers predict and history proves is possible. Admissions officers around the country are sharing that they expect a more regional population of students to enroll for the first time.
Some high school seniors are dropping their first-choice schools in favor of colleges that are cheaper and closer to home, early surveys have found.

Politico, April 12, 2020
Additionally, both high school seniors and continuing college students question whether to enroll for fall or defer enrollment until the health crisis passes, as more college administrators publicly discuss planning for continued campus closures and distance learning, with San Jose State University and California State University Fullerton, being the first in the country to announce that the majority of Fall classes will be online.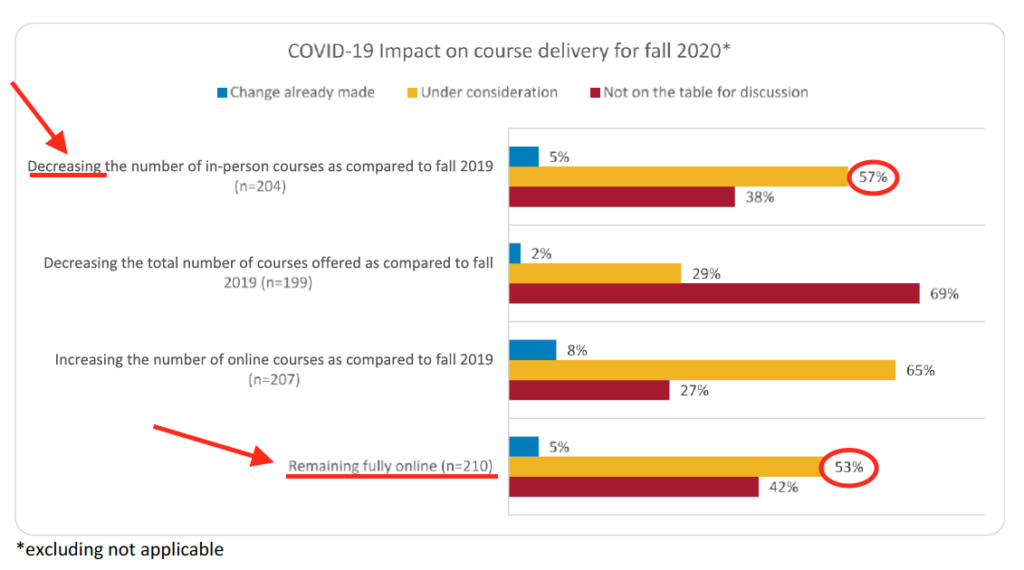 Compounding students complicated decision making process regarding their college enrollment in the context of an on-going global health crisis is the sudden decline in overall economic activity due to global lockdowns, that have begun to have a profound effect on consumers' expectations, who are exposed daily to a cacophony of stories depicting difficult economic times ahead. The initial economic shock due the COVID-19 crisis, has the potential to trigger a negative feedback loop where economic decline brings about a declining consumer confidence and so on and so forth, until we reach the bottom of this cycle, which many financial experts predict could range from anywhere from late Summer 2020 to 2021 and beyond, especially given the magnitude of the economic shock. 
Families who have saved money for years in 529 accounts and other college savings, which are now declining in value, are unsure if they can afford the college their children most want. One senior parent shared that their savings diminished by a half a year of private college expenses in the last five weeks, and continues declining. And, the second parent in the same household is now questioning their job security through the end of the year. Those families who have lost jobs unexpectedly, now finding it difficult to meet the most basic of expenses, will be rethinking their students' college plans to align with their radically altered economic situation.
In the midst of the uncertainty that has manifested from the current health crisis, students and parents are attempting to understand how their choices to attend college or not will affect their future prosperity. They are dismayed that due to circumstances beyond their control, they're managing more levels of complexity, that they did not anticipate at this point in their lives, so they can maintain their college-going expectations. Yet, in such difficult times opportunity lies in wait, if families are willing to discriminate, when deciding how to deploy their finite capital in seeking the greatest value in a college education.
---
Since 2003, Jill has advised clients about all aspects of the educational experience, no matter the level of complexity. A UCSD and Harvard graduate, as well as a former high school teacher, Jill works tirelessly so clients succeed. Contact her at jill@creativemarbles.com for more details about how her expertise can benefit families and organizations.