Emerging from "shelter-in-place" is not as simple are reopening school and college campuses, and welcoming students back into the buildings. The on-going health risks of subsequent outbreaks of COVID-19 absent a proven treatment or vaccine, along with the convoluted governmental structure to protect public health, creates complexity for students and parents trying to plan for their continuity of education.
As President Trump outlined his approach to reopening the country he stated:
'We are not opening all at once but one careful step at a time,' Trump said, indicating each state could 'tailor' its own reopening plan. 'If they need to remain closed, we will allow them to do that.'

CNN, April 16, 2020
The Federal government has limited Constitutional authority to mandate a single, countrywide public healthcare policy. Therefore, each state has the power under the US Constitution to enact varying statutes and corresponding regulations that will define the powers of counties and municipalities, regarding public health issues. The result is a hodgepodge of varying regulations, edicts and rules that sometimes compliment and sometimes contradict each other, leaving the average layperson confused, and rightfully so, making it even more difficult to manage during the lockdown and in the emergence from shelter-in-place orders.
Analysts at Morgan Stanley research have created their own timeline for "reopening", which along with the confusing network of governmental public health authorities and their concomitant labyrinth of rules and regulations, individuals and organizations can attempt, as difficult as that may be, to define their own recovery plans.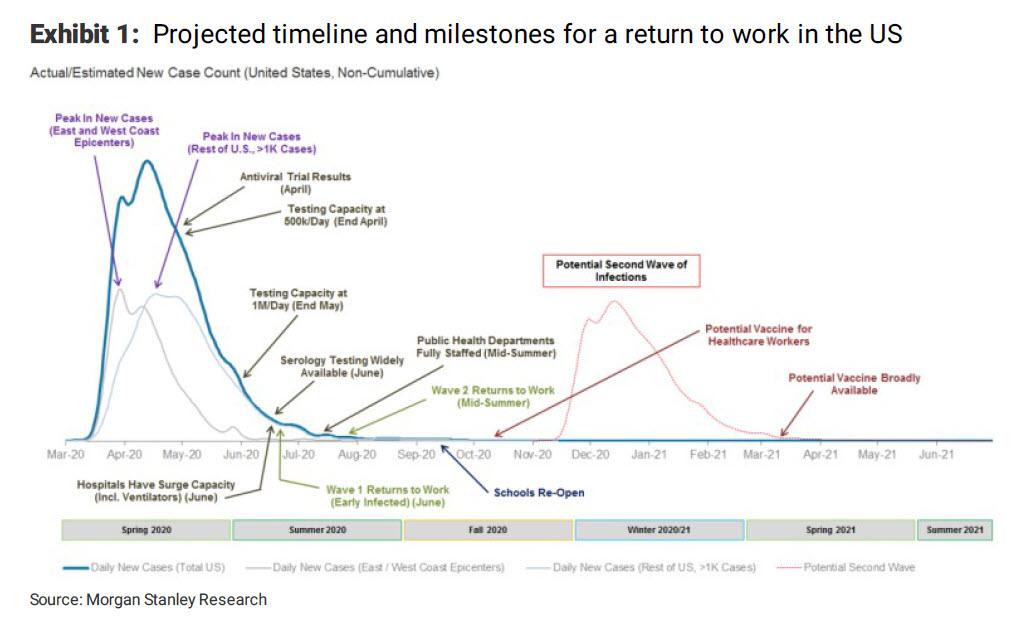 For education, school and district administrators are obligated to heed the mandates of public health officials, as we've already witnessed this spring. So, in planning ahead to fall, parents and students would be wise to consider different scenarios:
School campuses may reopen and a "normal" school schedule will commence, yet, plan for potential intermittent closures with the substitution of distance learning for continuity of instruction.
School campuses may not reopen at the scheduled late summer/fall first days of school, and distance learning will continue until the "all-clear" has been sounded by local public health officials.
As California Governor Gavin Newsom announced last week, if school campuses reopen, school and district officials may implement a modified school schedule, where students only attend classes for half-days at a time, with a portion of students attending morning sessions and another group attending classes in the afternoon.
For high school seniors in the midst of choosing colleges and current college students, study the local, regional and state responses to the current outbreak where the college is located. Then, families can forecast how their lives may be affected by the subsequent "second waves" of the virus which researchers are already predicting.
Harvard researchers examining the common cold for hints about how the COVID-19 virus might behave said that summer may not save us and that repeated periods of social distancing may be needed to keep serious cases from overwhelming the hospital system.

The Harvard Gazette, April 14, 2020
Already many university administrations, including University of California San Diego and have announced discussions to plan for extending campus closures through the fall while continuing distance learning. Other university administrators, like at Boston University in Massachusetts, Stanford University in California and Macalester College in Saint Paul, MN, have discussed delaying the start of the school year. Still others, like Beloit College administrators, are considering modifying the school year calendar, so the semester is halved in two with a break between modules, in case students need to be moved on or off campus depending on another outbreak.
Trying to plan amidst the uncertainty is no simple task. Yet, with study and a continued awareness of the evolving situation of COVID-19 and the efforts of both governmental and private organizations to mitigate the health effects through a variety of policies, a reasonable attempt at planning, of course subject to change in a moment's notice, can be accomplished, and hopefully, students and their families can continue pursuing their educational goals.