Another chart showing college tuition is increasing at a steepening rate: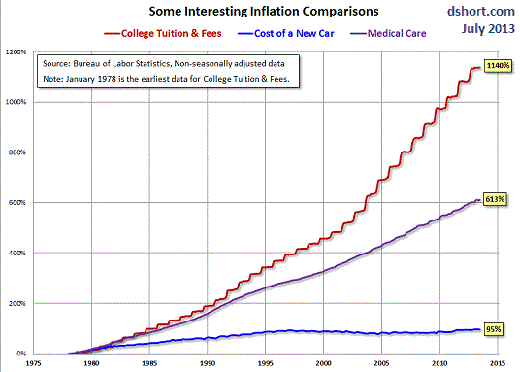 And  is causing families to spend a greater portion of the family budget to pay for college expenses, thus making college "more expensive":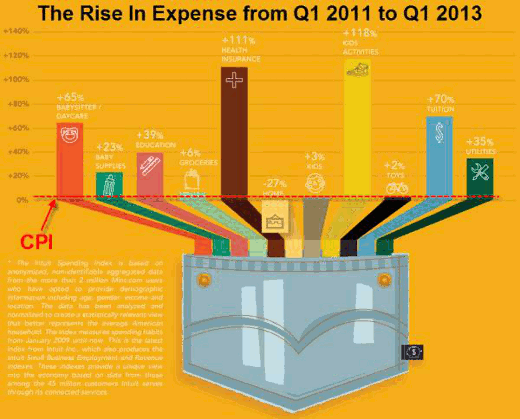 (If unable to view chart, click)
The Rise in Expense from Q1 [January-March] 2011 to Q1 [January-March] 2013.
(Bar graph description from left to right.)
Red bar: +65% Babysitter/Daycare
Green bar: +23% Baby Supplies
Pink bar: +39% Education
Aqua bar: +6% Groceries
Brown bar: +111% Health Insurance
Yellow bar: -27% Home
Grey bar: +3% Kids
Yellow bar: +118% Kid Activities
Black bar: +2% Toys
Blue bar: +70 Tuition
Dark Green bar: +35% Utilities
*The Intuit Spending Index is based on anonymized, non-identifiable aggregated data from the more than 2 million Mint.com users who have opted to provide demographic information including age, gender, income and location. The data has been analyzed and normalized to create a statistically relevant view that better represents the average American household. The index measures spending habits from January 2009 until now. This is the latest index from Intuit Inc., which also produces the Intuit Small Business Employment and Revenue Indexes. These indexes provide a unique view into the economy based on data from those among the 45 million customers Intuit serves through its connected services.
Chart Credit: Doug Short
Infographic Credit: mint.com/Intuit