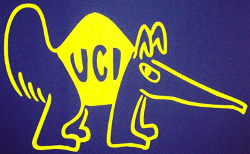 Clients often want to consider colleges where they'll be opportunities to join Sororities and Fraternities, also known as Greek Life.  In response to clients' questions, I interviewed Drew, a former Creative Marbles Consultancy client, Fraternity member and soon-to-be-graduated college student with a degree in Biology.  He talked with me about how joining a fraternity added to his college experience and benefitted his future career as a Physical Therapist.   
In the Fall of his freshman year at the University of California Irvine (UCI), Drew participated the process to join a fraternity, known as "rush". Drew spent a significant amount of time attending various Fraternities' events to consider and be considered to join a particular organization.  (Participants are invited to join a Fraternity or Sorority at the end of the rush period.)  Although he admits his grades suffered in that Fall quarter, the guidance of his "brothers" over the next four years outweighted having to retake one introductory Biology class for his major. While parties are a part of Greek life, Drew didn't feel pressured to be excessive in having a good time.  (See an earlier post about underage drinking and parties in college, which happen regardless of a Greek affiliation.)   He focused on building relationships with "older brothers" who mentored him in his academic and career goals.  Like many college students, Drew preferred to ask friends for advice before turning to professional counselors on campus.  Plus, he felt that UCI's large student population (currently 22,216 students) created challenges to building personal connections to counselors with large caseloads.  His pre-advising with these "siblings" helped him take advantage of his time with academic and career advisors.
Additionally, Drew built relationships with the members of the Sister Sorority to his fraternity.  An "older sister", who was also pursuing a career in healthcare, recommended Drew for an open internship in Physical Therapy at the clinic where she worked.  He jumped at the opportunity to apply, after one of his "older brothers" was unexpectedly denied admissions to a Physical Therapy graduate program for lack of professional experience. The ready-made social network of both his fraternity and sister sorority helped Drew confirm his interest in Physical Therapy and find opportunities to pursue his goals.
As a former 4 year high school football player and Varsity captain in his senior year, Drew likens the support and close relationships of his Fraternity brothers with the bonds of his former teammates.  He believes, not only did his brothers help him take advantage of UCI's resources from his Freshman year, he's made a lifelong support system.  Since his fraternity is a national organization, with chapters at colleges around the United States, he can attend conferences and gatherings to network with generations of alumni brothers, no matter where he eventually chooses to live and work.  Already, Drew's met perfect strangers who are alumni brothers, when he walks down the street wearing his fraternity's Greek letters.
While Drew's experience offers one view of Greek life, any students considering joining a Sorority or Fraternity should ask as many questions as possible.  During campus visits can be an ideal time to talk with both Sorority and Fraternity members, as well as non-Greek students.  Then, a prospective student can make an informed decision about not only applying to a campus, but eventually joining (or not) a Greek organization.
Photo Credit: UC Irvine Admissions