Anyone involved in the University of California over the past thirty years knows one thing for sure:  The tuition and fees for the UC has gone in one direction–UP.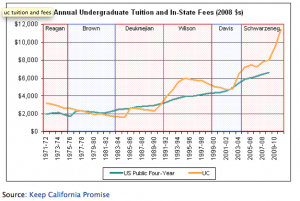 The question is, "When will there be a change in trend of weary California residents, and others who choose to attend the once affordable and prestigious University of California system?" According to the Contra Costa Times, unless Californians vote for a tax increase this November, not anytime soon.
California voters know their K-12 schools will see dramatic cuts and perhaps the nation's shortest school year if they reject a November tax increase. Now, the University of California has revealed its stake in the election: a 20-percent tuition hike for its nearly 182,000 undergraduates. UC's annual cost could bump to $14,670 a year — one more threat among many if Gov. Jerry Brown's sales tax and tax on the wealthy fails. California State University students would see their tuition's leap 5 percent to $6,120 a year.
The question, of course, is, "At what price, does the cost of attending a UC  become greater then its perceived value?" A college degree should return something besides a debt burden that many students find increasingly difficult to carry. Unemployment for graduating students–a college degree once provided protection from unemployment–has risen of late to an alarming rate. It seems to this author that something has to give. Either costs must come down, or the value to the incremental investor of a college degree–at least from UC schools–must rise.
Until then, it is very important to think through the college selection question and not just in the summer of your Senior year in high school.  Deciding what college to attend must be more about cost versus value, instead of, "What color is the football jersey?" or "Where did my friend apply?", if one is going to avoid, what is increasingly for many, becoming a debt trap with very little hope of escape.